"After what I saw in Bucha and Irpin, my mission is to speak out loud about it to the world," - Wojciech Polyak
On May 18-20, a delegation of bishops of the Roman Catholic Church of Poland visited Ukraine as a sign of solidarity and support for the Ukrainian people. One of them, the Primate of Poland, Archbishop Wojciech Polyak, has said that after what he saw in Bucha and Irpin, his main mission is to speak out loud about it to the world.
Primate Wojciech Polyak said this in the program "Open Church", reports the UGCC Information Department.
Primate Wojciech Polyak visited Ukraine for the first time.
"This meeting of ours in Kyiv is connected not only with our fraternal meetings as representatives of Churches but, foremost, with the fact that we visited the places of those new martyrs of the XXI century. What we saw in Irpin and Bucha after the Russians stayed there was destruction and death. So much hatred in that destruction and annihilation. Yes, life is gradually coming back, and it looks like a great sign of hope. We went to the place where there were shootings, and went to the mass grave of tortured people to pray there. And when I was kneeling at those coffins, at the place of their martyrdom, I thought that my great vocation now is to ask God even louder for peace in Ukraine! May God will take away the hatred from the hearts of Russians who do such things. Ukrainians who have arrived and are coming to us, to Poland, refer to them as people obsessed with some ideology of hatred, anger, destruction…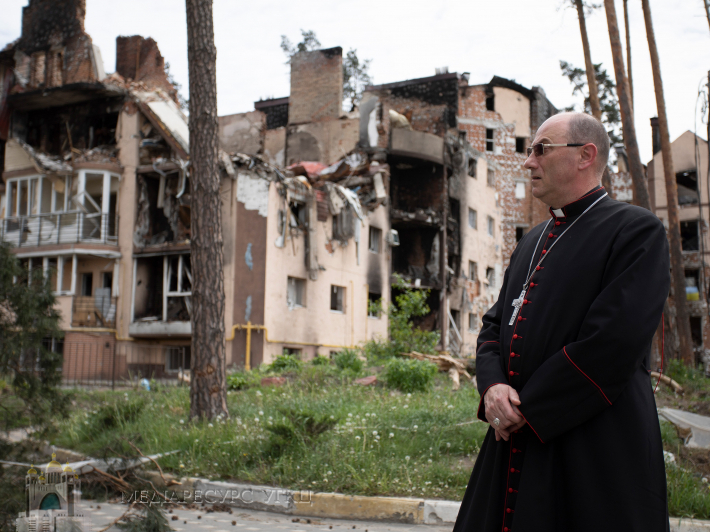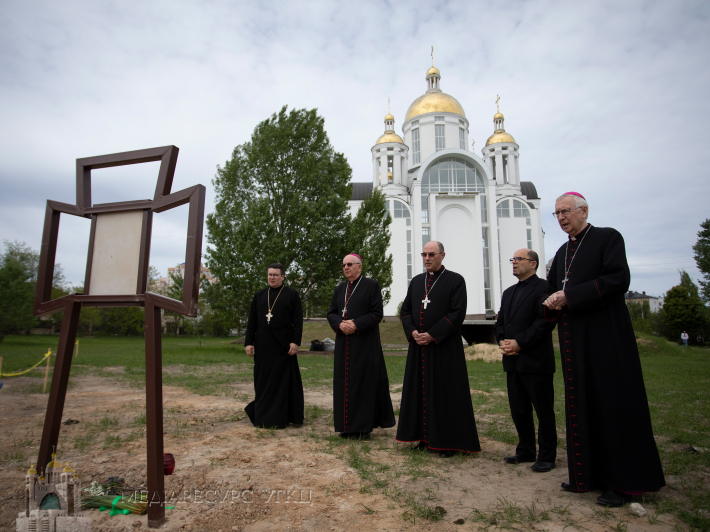 The Primate of Poland spoke about the support of those who are looking for shelter from the war in Poland – women, children, and the elderly. Since February 24, about 3.5 million refugees from Ukraine have passed through Poland. To date, about one million two hundred to one million four hundred thousand Ukrainians are staying there. Some of them have moved on to other European countries, and some have already returned to Ukraine.
According to him, this support of Ukrainians requires daily work and attention – both to material problems and to problems with adaptation and employment. The Roman Catholic Church takes an active part in this daily support of Ukrainians by Poles. Many people accepted Ukrainians in their homes, as did Primate Wojciech Polyak.
"It is clear that as the time passes, there are different stages of this situation: some people have found work in Poland, rent housing, and become more independent. Some people can't handle it yet and need support: they live in the recollection houses of the Catholic Church, or in the homes of our parishioners," says the Primate. "There is also a family from Chornomorsk living under my roof. That's why I have such personal experience: we eat together, work together, and meet every day. Since these are Orthodox people, I respect their religion and do not introduce any proselytism. But I see that they watch the bishop pray, and see that the chapel is open for their prayer as well. When we receive news from Ukraine when we review or hear that news, they are very hard worried about what is being done here, they are worried about their relatives. So, when I see this and feel that their sadness is taking hold, I understand that we need to support them, they need such solidarity..."
Primate Wojciech Polyak talks about special programs that are currently being launched in Poland.
"It is not known how long the war will last, so I think the organization of systemic assistance will be an important stage. We organized such systematic assistance not only in Poland but also outside it, through Caritas, through the family-to-family program, which has been helping in Syria for many years, at the Polish Embassy. In fact, this is a kind of patronage: we take such a family under our patronage as much as we can, help financially and financially, support, help. This has long been systematized through the activities of Caritas, and we see that this assistance directly reaches those in need. Perhaps this form of assistance and cooperation could be adapted to what is currently available in Ukraine. Soon, Ukraine will need a lot of forces to restore everything that was destroyed by the war, so such systematic assistance would be appropriate."
The Primate says that the issue of social service to Ukrainians is discussed at meetings of various levels of the Roman Catholic Church in Poland:
"We, as the Church of Poland, have already discussed this at our plenary conference, at the plenary meeting of the episcopate of Poland. We listened not only to His Beatitude Sviatoslav and the bishops but also in Lviv and other places we listened to many people who are refugees in Ukraine and who also need help. Here in Ukraine, you are on the first line of assistance, but I think you are not giving advice to yourself now, and you need to be supported in that assistance to those in need. Such support is now absolutely necessary, and I believe it is our duty."