Head of UGCC meets with representatives of various faiths who were on a solidarity mission to Ukraine
On May 25, His Beatitude Sviatoslav met in Kyiv with a delegation of religious leaders from the United States, Great Britain, Poland and Italy, who arrived in Ukraine to show solidarity with the Ukrainian people and pray for an end to Russia's aggression against Ukraine, the bombing of Ukrainian cities and to stand for a just peace.
According to the UGCC Information Department, during the meeting, the Head of the UGCC mentioned the Patriarchal Cathedral of the Resurrection of Christ, in the dungeons of which hundreds of civilians were hiding from Russian bombs and missiles during the period of active hostilities around Kyiv.
In his account, His Beatitude Sviatoslav noted that now we must all resist evil together, and the main force of such a confrontation should be prayer, as one of the main works of mercy, which not only helps but also saves a person, imbuing his earthly life with meaning.
The conversation was continued by Professor Jose Casanova, a representative of the Berkeley Center for Religious Affairs, Peace and International Affairs at Georgetown University (Washington, USA), who shared his personal impressions after yesterday's visit of religious figures to the cities of Irpin and Bucha.
In Irpin, they visited, in particular, the parish of the Nativity of the Most-Holy Theotokos of the UGCC.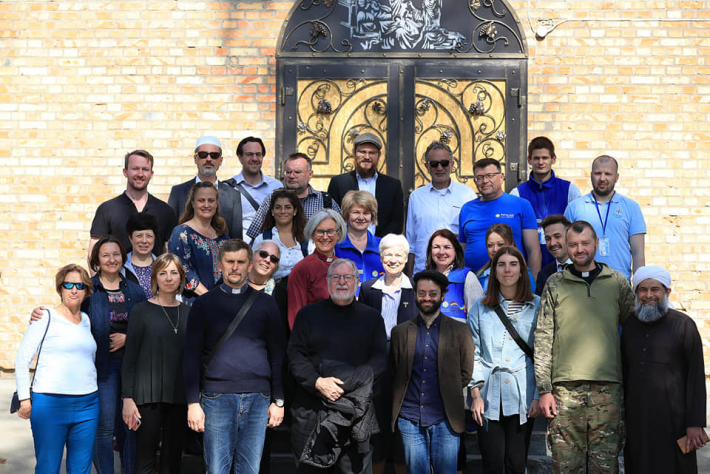 Delegation of religions from all over the world in front of the Church of the Nativity of the Most-Holy Theotokos of the UGCC in Irpin, May 25, 2022
Therefore, on behalf of the Ukrainian Greek Catholic Church, the Head of the UGCC thanked representatives of different faiths for their visit to Ukraine and asked to give a proper assessment of this war from the point of view of both international law and morality, so that the Russian aggressor left the Ukrainian land and that justice and peace in our homeland were restored.
At the end of the meeting, His Beatitude Sviatoslav presented each participant with a pysanka as a symbol of Easter joy and a sign of the victory of life over death.
Archpriest Ihor Shaban, Chairman of the UGCC Commission on Interfaith and Interreligious Relations, also attended the meeting.