Pope Francis in the letter to the Head of UGCC: "I sincerely ask for peace and mercy for beloved Ukraine"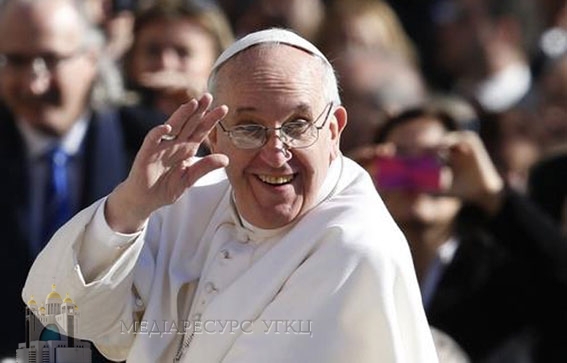 I would like to tell you that I am together with you, that in my prayers and in everything I bring to God every day, you have a special place. In particular, in serving Holy Mysteries of Christ and in bringing broken Bread and poured-out Cup, those lives which are broken with hatred and that blood which is constantly spilled because of hostility among people in many parts of the world, I sincerely beg the resurrected Lord for joy and peace for my beloved Ukraine
This was written by Holy Father Francis, the Pope of Rome, in a special letter to the Father and Head of the Ukrainian Greek Catholic Church His Beatitude Sviatoslav and all the faithful Greek Catholics. The letter was read at the Patriarchal Cathedral of Resurrection of Christ in Kyiv on Christmas during the Hierarchical Divine Liturgy, UGCC's press service informs. 
In his letter the pope Francis noted first of all that he with pleasure had received a letter from his Beatitude Sviatoslav after the Synod of Bishops of the UGCC which took place in Briukhovychi  in September last year. "Your words reminded me about your predecessor, of blessed memory Cardinal Lubomyr (Husar). I believe we all have to be grateful to God for his life, given away till the end, even in not less valuable and fruitful time of his illness, when he went on praying for his Church and his people. His evidence is also an encouragement to responsibility so that we, with faithful generosity responded to the example of the shepherds, whom Christ granted to us and who had lived by the desire of His Heart," shared in his letter the Holy Father.
Pope Francis observed in the letter that he was moved by the expressions of love and care with which the Head of the UGCC spoke to him about the importance of the Liturgy and praying. "Actually, a pastor can not get tired to pray daily and give away his life, rising to the altar and descending from it in order to meet God's people, be together with them, never giving up, never sparing efforts to help them understand the spiritual art to trust God in any circumstances, Who never disappoints the expectations of His faithful," writes the Pope.
Writing about Christmas, Pope Francis noted that it is the holiday of light which shines in the darkness. "This is a mystery of divine light which shines through the night: it doesn't shorten it, nor enlightens it completely, but begins a new dawn  – a dawn, in which God starts dwelling in our obscure story. May His tenderness warm our hearts and enliven hope, may His disarming simplicity lit the desire of reconciliation and peace, and His tireless love -  brings about a desire to start anew and forgive,"wished the Holy Father.