In Babyn Yar, representatives of religious denominations from abroad prayed for peace in Ukraine
Representatives of various religious denominations prayed for peace in Ukraine at the Babyn Yar memorial complex. They came from European countries and the United States at the invitation of Mayor Vitali Klitschko.
Back in March, Klitschko asked them to express solidarity with the Ukrainian people. The mission had to be prepared for over two months. This was primarily due to danger. After all, in March, part of the Kyiv region was under occupation.
The trip was organized almost two months after the liberation of the region from the invaders. Religious figures traveled to the capital by bus from Warsaw. The journey took 48 hours.
"A country at war is always a place of danger, but we wanted to show you our solidarity. After all, Ukrainians live in this state every day. I admire the resilience of Ukrainians and their hard work.
During my long journey, I have seen how many people work on Earth: old and young. The country is alive, and we pray that God will support you and that you become free again, said Imam Sheikh Ibrahim Mogra, former secretary-general of the Muslim Council of Britain.
All representatives of faiths are convinced that prayer is a very powerful weapon, and "if you ask God for peace, he will give it."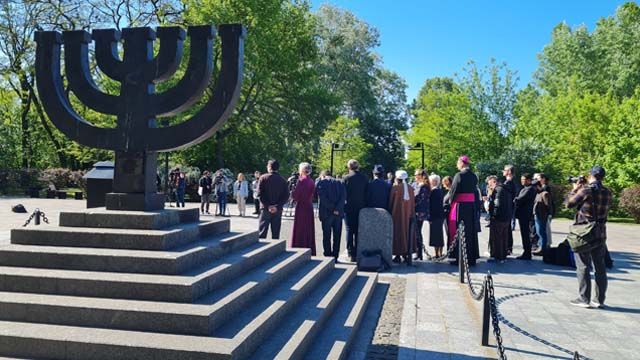 Anglican Bishop Joe Bailey Wells of Great Britain joined the delegation after learning about the opportunity to visit Kyiv. Refugees from Mariupol live in her apartment. The entire town of Dorking in Surrey has been flying blue and yellow flags since February. Therefore, the question of whether or not to go was not worth it.
"Jesus is always with those who suffer. And Ukraine is now at the center of prayers all over the world. Of course, there is a risk, the war lasts for three months, and we should not forget about it. The world should remind Ukraine that it is cared for and never forgotten," she said.
Among the organizers of the event is the Babyn Yar Holocaust Memorial Center. Its CEO Maksym Rabynovych believes that it is important to remind the whole world of what is currently happening in Ukraine.
"Babyn Yar, of course, is one of the outstanding points of Kyiv and Ukraine as a whole. This is the place where the genocide took place, and we understand that the genocide of the Ukrainian people is taking place now. And it is very important to emphasize not to Ukrainians but to emphasize to the whole world what is happening in Ukraine.
On May 24, religious figures visited Irpin, and on May 25, they will meet with representatives of the state authorities and the mayor's office.
The video about the event can be found here.