Metropolitan Onufriy going to Montenegro to support "persecuted" Serbian Church
On February 29, the head of the UOC-MP, Metropolitan Onufriy, jointly with four bishops, will take part in solemn events in honor of Saint Simeon the Myrrh-Flowing in Podgorica, the capital of Montenegro.
Patriarch Irenaeus of the Serbian Orthodox Church (SPC) will lead the celebrations.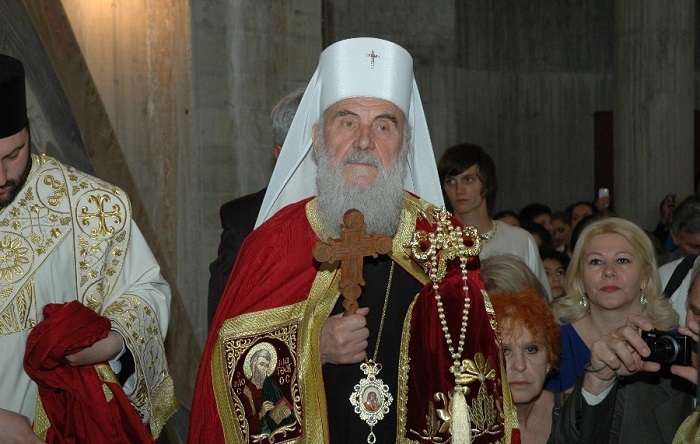 This was stated by Metropolitan Amfilohije of Montenegro and the Littoral of the Serbian Orthodox Church in an interview with the Serbian Orthodox TV-Channel "Hram", reports "Religion in Ukraine" citing "Balkan observer" and the telegram channel Autocephalia.
According to Metropolitan Amfilohije, a Liturgy is planned in the Cathedral of the Resurrection of Christ and a Liturgy in the monastery of Saint Simeon the Myrrh-Flowing.
As you know, the Moscow and Serbian Patriarchates are fighting together for the "Russian World" against autocephaly in Ukraine, Montenegro and Macedonia.
Russian Russian Orthodox Church's official website quotes the Serbian Patriarch as saying: "Anyone who helps Ukrainian dissenters is an enemy not only of the Russian Church and the" Russian World", but also of all Orthodox Slavic peoples and the entire Orthodox world."
Recently, on January 30, 2020, a delegation of the UOC-MP led by the head of the UOC-MP Representation to international organizations, Bishop Viktor Kotsaba of Baryshev, met with the Primate of the SOC Irinej in Belgrade. Archpriest Mykolai Danylevych, Deputy Chairman of the Department for External Church Relations of the UOC-MP, also took part in the meeting. They discussed the common problems of the Serbian Church in Montenegro and the Moscow Patriarchate in Ukraine. Both Churches are trying to strengthen their jurisdictions in these countries, despite the desire of a large part of local believers to have an independent, Autocephalous Church.
On the eve of January 27, Bishop Viktor took part in celebrations in Montenegro on the occasion of St. Sava of Serbia's memorial day and in an anti-government protest led by Metropolitan Metropolitan Amfilohije of Montenegro and the Littoral of the Serbian Orthodox Church. Both clerics noted that the parishioners of their dioceses are undergoing joint trials and suffering, of which the Church of Constantinople was accused.
On December 27, 2019, the Montenegrin Parliament passed a law on freedom of religion, which aims to reduce the influence of the Serbian Church in Montenegro and provides for the nationalization of churches built before 1918.
Mass protests in support of the Serbian Church began in the country, and a curator from the GRU of the Russian Federation was even noticed at a rally in Kosovo. In the information field, Russia supports the Serbian Church, and explains the desire of Montenegrins to have their own Church as "aggressive nationalism".
Montenegro's President Djukanovic accused the Serbian Church of supporting the idea of the Greater Serbia, that is, separatism: "They believe that Montenegro was created by mistake."
In mid-January, Serbian President Aleksandar Vucic spoke of the "rightlessness" of Serbs in Montenegro and the need to protect them.