Patriarch Bartholomew presented with a Galician Collar
It was made of silver and gilding by Oleksandr Miroshnykov, a full knight of the orders of the international Karl Faberge Foundation.
Among the thousands of people who are congratulating Ecumenical Patriarch Bartholomew on the 30th anniversary of his patriarchal ministry in Athens, Greece was a delegation from the Lviv region. Фссщквштп ещ High Castle, they took part in the solemn Liturgy in honor of His Holiness, which was held in the Cathedral on Metropoliteos square.
The Ukrainian delegation presented the Ecumenical Patriarch with a commemorative Collar of the Stavropol Brotherhood in Lviv. This gift is associated with events more than four years ago. At the end of the XVI century, patriarch Meletius of Constantinople appointed bishop Gideon of Lviv-Galicia as his Exarch in Ukraine and locum tenens of the Kyiv Metropolia. Within the same period, the Patriarchs of Constantinople granted the Lviv Brotherhood the status of a stavropegia (an autonomous Orthodox Church body that is subordinated not to the local hierarchy, but directly to the patriarch and enjoys special rights). In honor of this event, as well as on the occasion of the anniversary of the patriarchal ministry, Bartholomew was presented with a symbol of power. The delegation from Lviv was met by Doctor of Arts, chief restorer of Mount Athos Stavros Mikhailidis.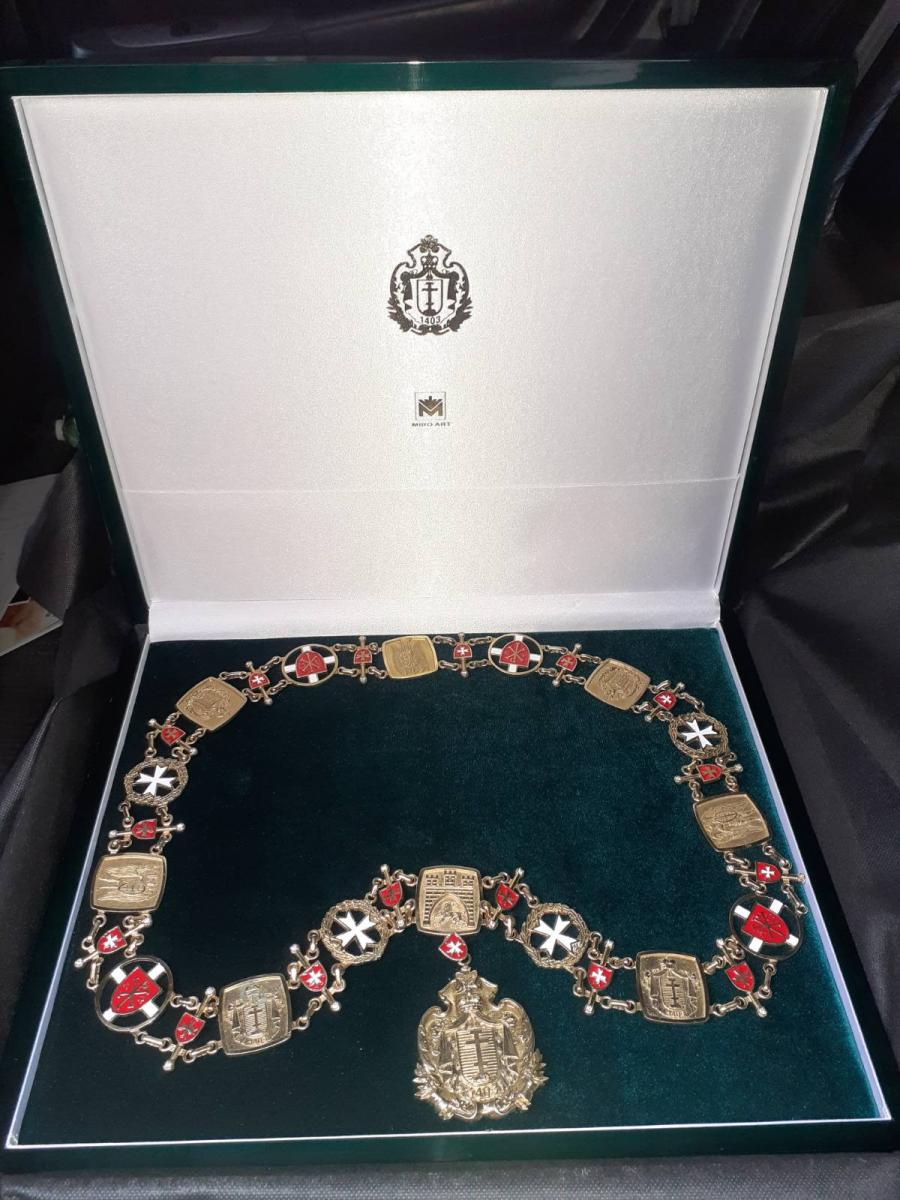 The collar for the Ecumenical Patriarch was made by the Honored Master of Folk Art of Ukraine, full holder of awards of the International Memorial Fund Karl Faberge, head of the Art Association "MIRO ART" Alexander Miroshnikov (he lives and works in the city of Mykolayiv near Lviv). As the artist said in an interview with the "High Castle", His Holiness thanked Ukraine for such attention to him.
The collar is made of silver, enamel, it is covered with gilding. This article weighs 500 grams. Oleksandr Miroshnykov spent more than half a year making it.
In 2015, the artist from Mykolayiv made an order and a star of three degrees from precious metals — in memory of St. John Paul II. The award was consecrated in the Cathedral of Lviv.