Russia and its Church launch campaign against vaccination in Ukraine to increase mortality – the NSDC
Based on the results of an analysis of the information field of Telegram channels of Ukraine, the NSDC Center for Countering Disinformation confirmed an information operation of the Russian Federation aimed at reducing the level of vaccination and increasing the number of deaths.
This is reported by Ukrainska Pravda with a link to the report by the Center for Countering Disinformation at the National Security and Defense Council.
The report demonstrates how messages about the seemingly negative consequences of vaccination are spread through a network of mass media, in particular, in social networks and instant messengers. Attention is focused on popular supposedly Ukrainian political Telegram channels associated with the Russian Federation. They promote destructive narratives through both posts and bots in the comments to them.
The fact that all these channels are administered from Russia is also confirmed by the SBU.
Telegram channels promote destructive narratives in Ukraine regarding vaccination, while being administered by the Russian Federation, which has a polarly different agenda – encourage Russian citizens to get vaccinated and assure them of the need for vaccination.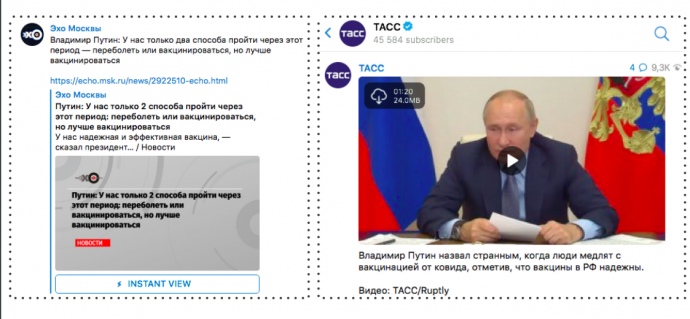 According to the report, a significant role in spreading the ideas of anti-vaccination is played by "one of the churches" - we are talking about the Russian Orthodox Church and the UOC-MP.
The UOC MP opposes vaccines, and organized a rally under the building of the Verkhovna Rada on October 19, where participants brought posters with slogans: "vaccination kills", "no to medical experiments. Let's protect our children." Also, according to the organizers and participants, vaccination is a sin.

Yet the Russian Orthodox Church itself, on the contrary, encourages people to get vaccinated, distributes information about the types of vaccines, debunks the myths associated with them, and notes that vaccination is not a sin.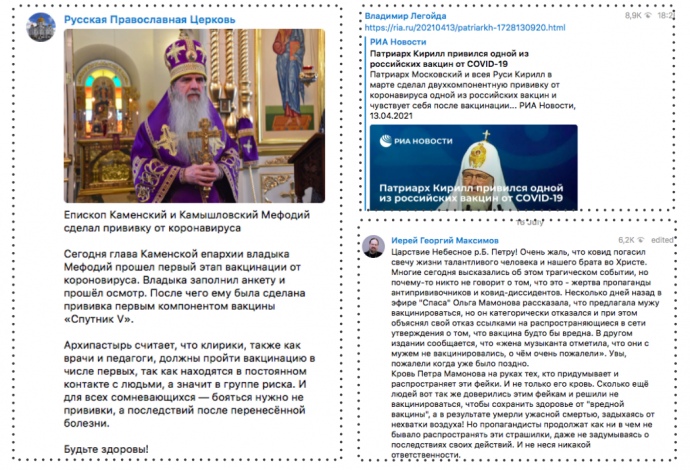 The NSDC report says: "A full-scale and long-term disinformation operation threatens the lives and security of Ukrainians, and the number of victims will grow if the necessary measures are not taken to counter them in the information space.
The Center for Countering Disinformation asks Ukrainians to pay attention to the success of vaccination in Moscow. Morshyn is a vivid example of overcoming misinformation around vaccines and the virus itself. In Morshyn, more than 75% of residents were vaccinated, and the number of deaths and severe cases is much less than in other cities of Ukraine, thanks to vaccination."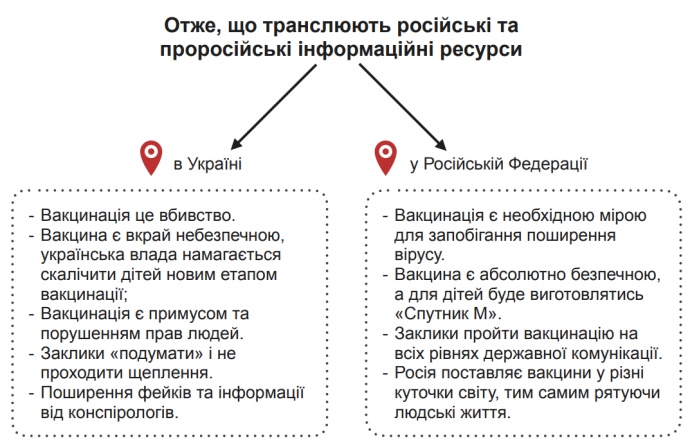 The NSDC emphasizes: In Ukraine, the situation with coronavirus is now critical. The vaccination rate is the lowest in Europe, and the number of deaths has recently been breaking records.
According to the Ministry of Health, 98% of people in Ukrainian hospitals are not vaccinated against coronavirus.