Ukrainians speak less Russian and are less likely to attend the Church of the Moscow Patriarchate - survey results
Sociologists record an increase in rejection of everything Russian. During the year of war, Ukrainians began to use the Russian language less and tended to attend less the Church of the Moscow Patriarchate.
This is reported by UAINFO.org, citing the survey of Info Sapiens.
The share of Ukrainian speakers increased from 46% in February 2022 to 62% in January 2023, while the share of Russian speakers decreased from 26% to 13% (the rest are bilingual).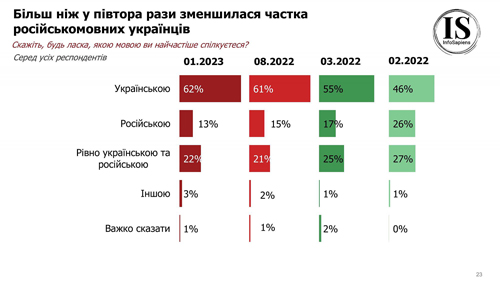 The share of supporters of the UOC-Moscow Patriarchate decreased from 15% in February 2022 to 4% in January 2023.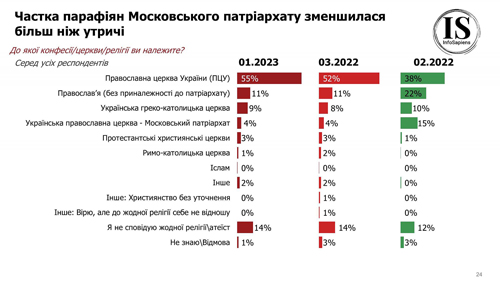 In 2021, 72% of Ukrainians acquired a negative attitude towards Russia; in 2022, 96% reported such a negative attitude. The share of Russian-friendly Ukrainians decreased from 20% in 2021 to 1% in 2022.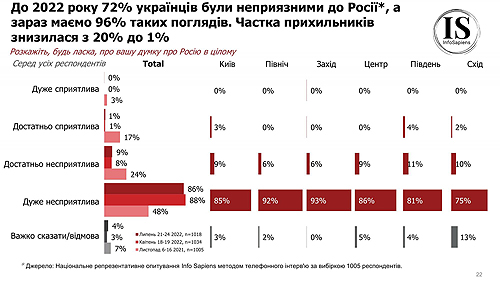 The survey was conducted by Info Sapiens on February 17-19 among 1,011 respondents. The telephone survey does not take into account the opinion of Ukrainians who went abroad and the opinion of residents of the territories occupied in 2022 without Ukrainian mobile communication. The maximum theoretical error does not exceed 3.1%.