The head of the UGCC and Bishops of the Permanent Synod met with the Archbishop of Wrocław
The meeting of the bishops of the UGCC with the Catholic Archbishop of Wroclaw, Józef Kupny, took place on May 26, 2023
According to the Information Department of the UGCC, in addition to His Beatitude Sviatoslav, the meeting was attended by Bishop Borys Gudziak, Archbishop and Metropolitan of Philadelphia, Bishop Volodymyr Yushchak, the Eparch of Wrocław-Koszalin, Bishop Bohdan Dzyurakh, the Apostolic Exarch for Ukrainians of the Byzantine Rite in Germany and Scandinavia, Bishop Josafat Moschych, the Bishop of Chernivtsi, and Bishop Andriy Khimyak, the Auxiliary Bishop of the Kyiv Archeparchy of the UGCC.
The Head of the UGCC expressed gratitude to Archbishop Kupny for the hospitality of the Polish people and the openness of the Catholic Church in Poland, which they have shown towards Ukrainian refugees. Since the beginning of the full-scale Russian war against Ukraine, Poland has accepted the largest number of refugees from Ukraine.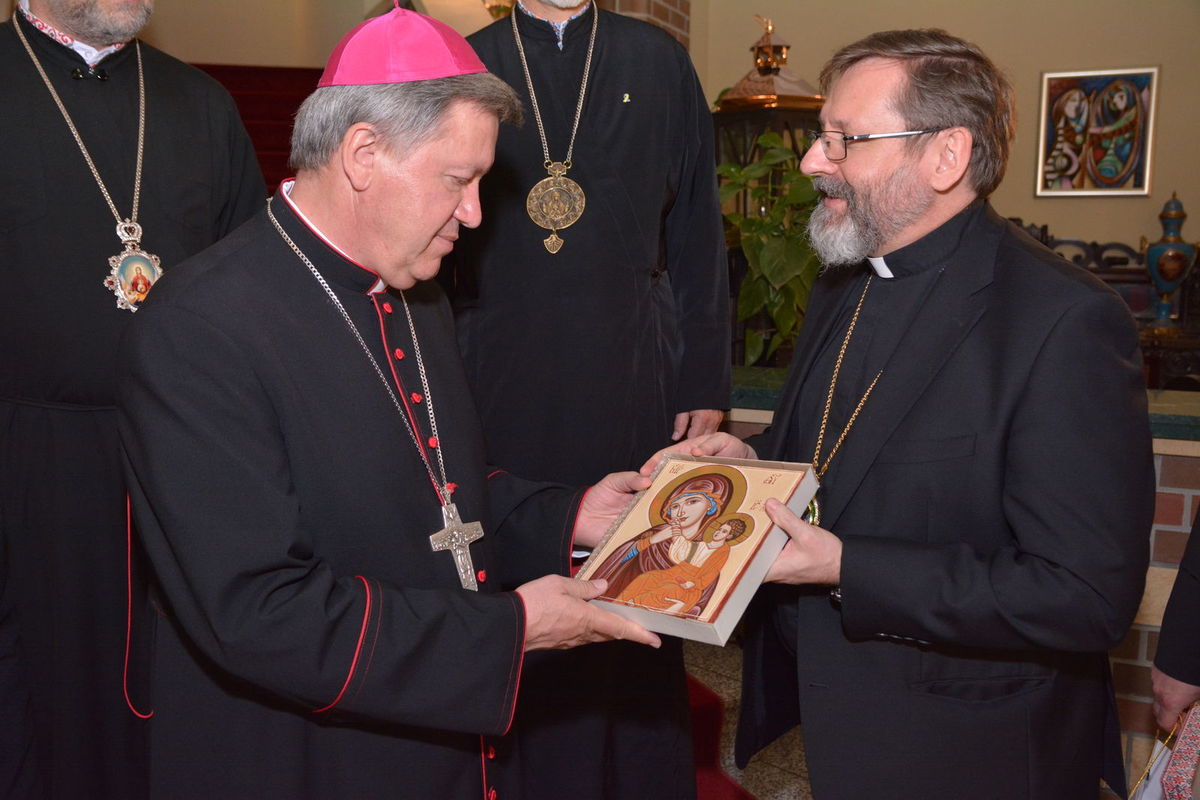 At the same time, His Beatitude Sviatoslav noted that another aspect of this support for the Ukrainian people has been the humanitarian aid and donations that Poles have been sending to Ukrainians who have suffered the most from the war. Moreover, the support and care for Ukrainian refugees are not limited to material assistance, as the Catholic Church in Poland also takes care of their spiritual needs by creating new centers where Ukrainians can pray and grow spiritually in their own rite.
Following that, the Head of the Ukrainian Greek-Catholic Church shared news about the current military situation in Ukraine, the situation between the Churches in Ukraine, and the Ukrainian Greek-Catholic Church's response to various challenges of the war. He particularly mentioned the Church's desire and readiness to stand by its people and heal the wounds of the war. One aspect of this ministry is providing spiritual care for refugees. Thus, the Head of the UGCC shared with his interlocutor the latest information regarding the situation of Ukrainian refugees in Poland and specifically in the Wrocław-Koszalin Eparchy of the UGCC.
In turn, Archbishop Józef Kupny expressed hope for a swift end to the war and the suffering of millions of Ukrainians and assured of continued support and openness from both the Catholic Church and the Polish people.
At the end of the meeting, the Head of the UGCC, as a sign of gratitude and respect, presented Archbishop Józef Kupny with an icon of the Blessed Virgin Mary.
It should be noted that the fourth (75th) session of the Permanent Synod of the UGCC took place in Wrocław, Poland, from May 23 to May 26. The session discussed the experience of service and pastoral care for Ukrainian refugees.